Brabazon Lender Resources
Let Brabazon Title handle all of your title and closing needs. When you use Brabazon Title for your closing, you'll be assured of professionalism and integrity every step of the way – from our quality facility to our experienced agents with hundreds of successful closings. Our expertise assures that your customers will enjoy a positive closing experience and your escrow instructions will be followed to the letter with all packages returned in a timely manner. What's more, when changes to RESPA occur, our agents will help you comply with those changes.
Our lender title services include:
Title Insurance

Purchase Money Mortgages
Refinances
Second Mortgages/Home Equity
Construction Loans

Closing Services
Construction Draws and Inspections
Training

Title 101
Entities, Trusts, POAs and Individuals – Ownership of real estate
Suggest a Topic!

Translation Services (advance notice required)
For more information, call us at
(608) 362-0330
Lender Forms
(PDF format):
To download: Right click and choose "Save Target As" (specify location on your hard drive, i.e. desktop or My Documents folder).
Helpful Web Links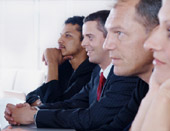 Brabazon's experienced title professionals are available to train your staff. Call us at (608) 362-0330 to schedule a training session.